After Diane Quilty was diagnosed with terminal cancer and given just months to live, she made a dying wish — riding a horse.
Barbara, Diane's older sister, contacted her friend Rita Smith on March 19 to help make her sister's wish happen.
"Diane and her sister had a history with horses," Smith said. "Diane's final request and wishes were to be around horses again before her final days."
Smith said the Quilty sisters have a reputation of spreading love wherever they go and had also helped her in time of need.
"They are salt of the earth women," she said.
Having Diane ride a horse was going to be a difficult task because she could not be away from her oxygen for more than 10 minutes. But Smith was determined to make it happen.
The plan
Smith owns five horses. Together with her partner Bryan Dear, who fully supported the idea, the plan to bring the horses to the hospital for Diane started becoming a possible mission.
Smith went home and dug out her horse trailer from the snowbank and all systems checked out despite the winter storage.
The next thing was scoping out the hospital for a nice quiet place where the horses could be unloaded safely without drawing a crowd.
Smith said the back parking lot seemed like a perfect location and March 26 was set as the date because traffic was expected to be low.
"I had a very confident and comfortable feeling that my horses and I were up to this along with help from family and friends," she said. "Horses are a flight animal by nature and everything that would bring up red flags for me were quickly coming down. I just knew my horses well enough to know they could handle this. I told Barb it was going to happen."
Smith's horses are mostly trail horses.
"They are purebred Morgans that I have done extensive connection and groundwork training with. They are well known for working hard to please and adapting to new situations."
Of Smith's five horses, another concern was how many horses to bring to the hospital. She said she had a few days to think about it and make a decision.
"I decided to bring my main reliable chestnut mare Maddie, along with her sister Blue, who both are wonderful support mares, each with their unique personalities," she said.
Smith's other goal was not only to bring this moment to full fruition for Diane and Barbara, but to also make as many connections as possible.
On March 24, Smith said she got some disturbing news that Diane would be moving to hospice on March 27 so the visit had to be happen on March 26.
"All hands were on deck, horses groomed, tack ready, just in case we were able to get Diane in the saddle for the last time," Smith said.
On March 25, the weather was unfriendly with blowing snow.
Smith was adamant: Diane's wish must be fulfilled as planned. She kept in contact with Barbara and Diane, reassuring them of her commitment to make it happen.
"I decided that hell or high water, this is happening," she said.
The visit
Smith said March 26 brought better weather with the sun pouring over the horizon.
With the help of Dear and his daughter Pyper, they loaded all the gear and the horses without any problems.
"It's like they knew we were on a mission and they seemed excited for it," she said.
When they arrived at the hospital parking lot at 11:30 a.m., the sun was shining to brighten up the day for the planned activity. They quickly set up the metal corral panels and unloaded the three horses they brought with them.
"I thought we would have needed an hour to calm them, but they settled almost immediately," Smith said. "I had Rebel and Maddie in the corral and had Blue by my side."
The big moment arrived when Diane, her sister and the supporting nurses and doctors came out.
"It was like watching angels emerge from the clouds," Smith recalled. "I cannot quite describe in words the feeling of love and happiness as the smiles spread across the Quilty sisters faces."
Smith said her animals seemed to understand how important the occasion was.
"Normally a group of new people, some in wheelchairs, would make a horse nervous," she said. "It quickly became apparent that my angelic sooty palomino Blue would bond with Diane, standing right over her and kneading the top of her head, a common tradition with horses when they are grooming and giving acceptance into the herd."
Normally the horses are flight animals that can spook at any given moment. But this didn't happen.
"I watched in awe as my horses took in the crowd with absolute relaxation and peace, aided by the odd entertainment by my young spunky filly Rebel," she said.
Smith really wanted Diane to get the most out of this opportunity. She took her into the corral where her two horses – Rebel and Maddie — were.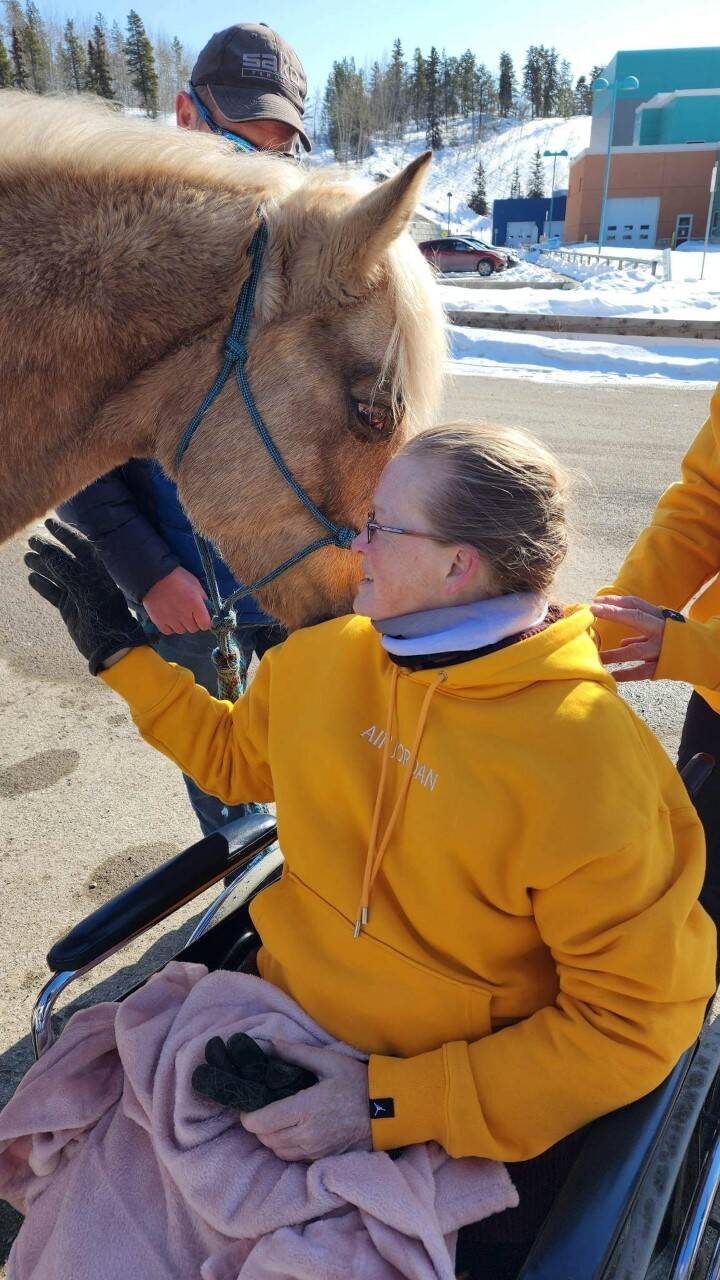 "Maddie bowed for Diane and gave her a horse hug," she said. "Rebel was being too jealous to be of much help. It was incredible to watch the horse that started it all for me, to wrap her big muscular neck around the fragile woman."
Diane rides
Smith was not done in helping Diane have the day she wanted. She took Diane out of the pen and asked if she felt up for a ride. Diane was hesitant at first, but with the coaxing and support of Smith and Bryan, she said, "Let's do it."
"I made a quick time of saddling Blue knowing full well she was up for it. I brought my three step mounting block which we helped Diane make her way up and into the saddle. Most horses would balk at having four people surrounding them while someone crawled on their back, but Blue seemed to know what the task was and stood still like a rock."
After Diane had mounted the horse, Smith said she looked up and was able to feel the spring breeze on her face and just started glowing.
"She was soaking in every moment," Smith explained. "I was trying not to cry after she started yelling that this was the best moment of her life. The tears and smiles coming out of both sisters was payment tenfold. I handed the lead rope to Barb and many got to observe [the] many beautiful moments between these two amazing strong women."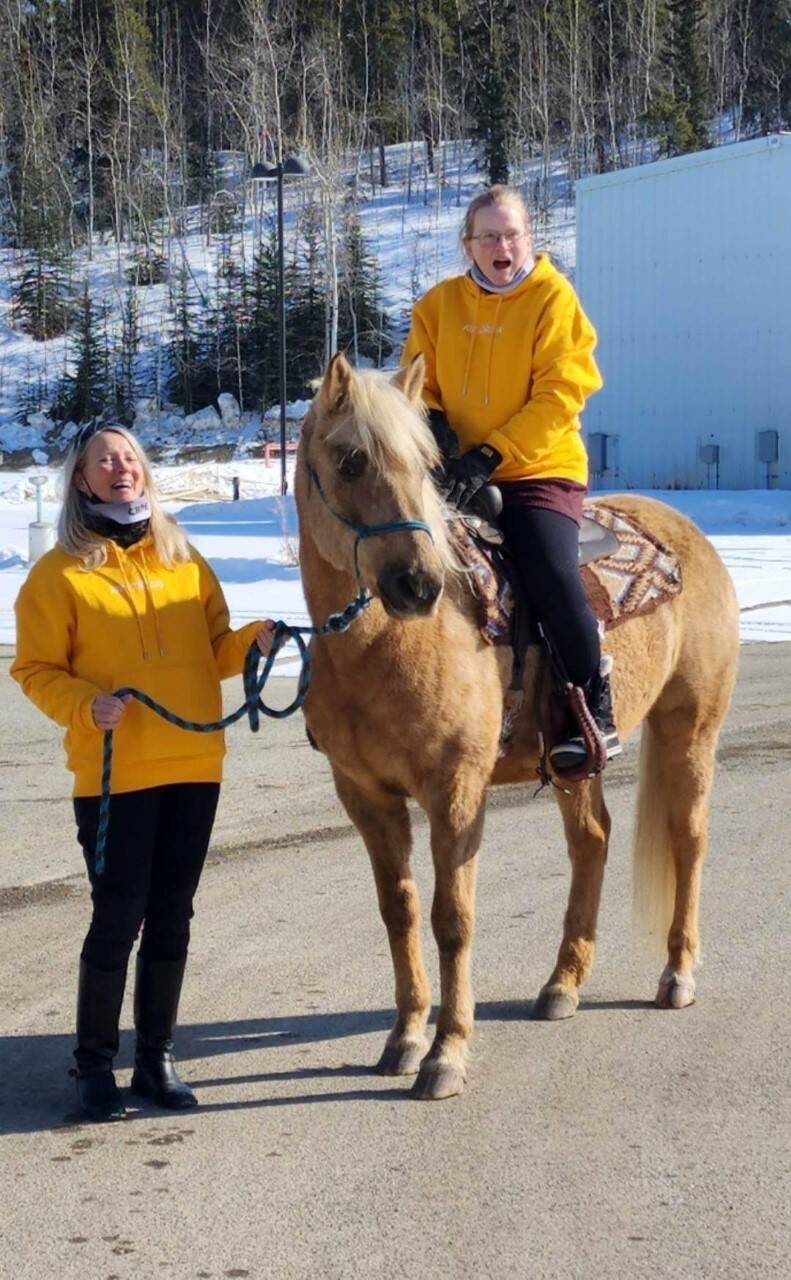 After Diane had relished the moment, Smith and the team helped her back into her wheelchair and got Barbara up in the saddle for a stroll.
Smith said she was emotional after all the crowd dispersed and she got the horses loaded back to the truck.
"My heart was so full, and I knew without a shadow of a doubt that this was the biggest honor to date in my life," she said.
She said having the opportunity to make such a significant impact on someone's life, and make their dream come true, is the greatest gift anyone could be given.
Smith said Barbara and Diane wanted this message of love to be spread as far as the oceans.
"This was indeed the best day of my life and I pray for these amazing women," she said. "It is their wish that the awareness of love, caring for each other, making dreams come true and never giving up be spread as far as the eye can see."
Diane passed away on March 28.
"The bond between these women is inseparable and so is their love for life itself," Smith said. "Giving something back to someone in need is the greatest gift ever. Barb and Diane have changed my life, and made me see possibilities with fresh eyes."
Contact Patrick Egwu at patrick.egwu@yukon-news.com