About 30 people gathered outside Whitehorse City Hall on March 8 in support of a councillor who was asked to reconsider bringing her infant son to council meetings.
Meanwhile, the city's mayor says she's hopeful a solution can be found that will meet everyone's needs.
The equity march in support of Michelle Friesen began just before lunchtime at Les Essentielles on Third Avenue. The crowd included several mothers, rolling strollers and bouncing their own babies.
After the event organizers delivered remarks in both English and French, Friesen thanked the crowd and stressed the importance of supporting women and parents in community leadership roles. She wiped a tear from her eye after speaking.
Les Essentielles, a non-profit organization for Francophone women in the Yukon, organized the International Women's Day march for pay equity. Several attendees were seen sporting #Echo8mars hats and Feministe stickers.
The plans for the stop at city hall came up in the days after Friesen posted to social media on Feb. 28 about her time with her son Theo at council chambers. She noted that half of her time on council since being elected in October 2021 has been as a mother to Theo.
She stated not everyone "is a fan" of, among other things, her bringing Theo to meetings.
"There are so many positives from welcoming our youth into these spaces and as an Indigenous woman I see this as reconciliation in action," Friesen, the first Indigenous woman to be elected to Whitehorse city council, continued. "It's been incredible to bring this piece of culture into a place where Indigenous representation has been missing for so long and I also hope that other parents, women and youth can see themselves in these spaces and that Theo and I can make a difference by doing our small part of paving this new path."
In a March 6 interview, Friesen said she was surprised when she got a call from Mayor Laura Cabott about possibly not bringing Theo to council after concerns had come forward from some council members and city staff about his presence being distracting and making it difficult to listen to the proceedings.
"I was really taken aback," Friesen said, noting she had previously felt supported in her decision to bring her son to council meetings.
Theo had been formally welcomed and introduced at the first meeting he attended with his mom in July 2022 when he was still a newborn.
While Friesen typically brings Theo to council meetings when her partner is out of town for work, she argued the issue is about more than that. It is also about ensuring access to politics for mothers and, as she noted in her post, reconciliation.
"Having children in the room reminds us who we're making these decisions for," she said.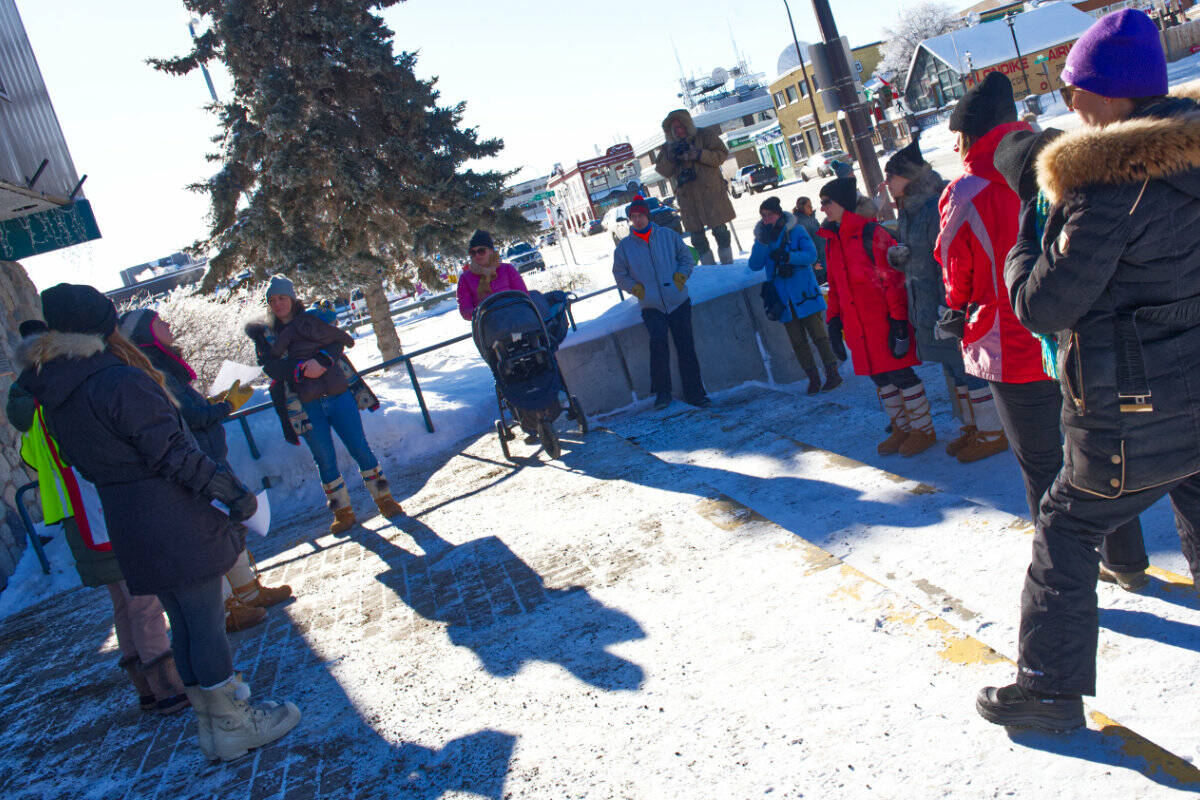 Though council members can get reimbursed for child care while they are attending council meetings, Friesen pointed out not everyone has the privilege of child care being available for the 5:30 p.m. Monday meetings. The maximum reimbursement per hour is also less than minimum wage, she said.
While there is also an option to call into meetings, Friesen pointed out members cannot chair city committees they would otherwise if they were there in-person and that means putting more of her work on the plate of other council members. She also said attending in-person allows her to be more fully engaged in the council process.
"I just feel it affects my ability to do my job," she said.
She was pleased to see the support of Les Essentielles in making city hall a part of their Women's Day walk downtown.
As Les Essentielles director Laurence Rivard explained, in French the title for Women's Day focuses on women's rights. She said it's important to show Friesen support in her role as a mother working in politics.
"We want to give a morale boost to the councillor," she said.
With the organization hosting its regular group for babies and parents on Wednesday mornings, it seemed like the right timing to do a downtown stroller walk with the families for Women's Day. After seeing Friesen's post, they decided city hall would be included as part of the walk. Friesen said she's received a number of messages of support since she posted about the situation.
While Friesen attended and brought her son along to the council meeting that followed Mayor Cabott's phone call, she ended up leaving early as Theo was tired and became escalated. Given the concerns that had come up, Friesen said she thought it best to leave.
In separate interviews both Friesen and Cabott highlighted an upcoming internal meeting of council to look at the issue and find a way to address it.
Cabott emphasized part of her role as mayor is to ensure those at council meetings — council members, staff and the public present — can fully participate. Over the last couple of months, she said, it had been brought to her attention there wasn't that type of atmosphere at the meetings.
While Friesen has been bringing Theo to council meetings since last July, the mayor noted as babies get older they become more active.
She's hopeful that by dealing with the matter internally, through a discussion among staff and council, a solution will be found that will meet the needs of all councillors and staff at the meetings.
Cabott said there's a few different options to be considered when that discussion gets underway.
— With files from Gabrielle Plonka
Contact Stephanie Waddell at stephanie.waddell@yukon-news.com