The following story references abuse at residential schools. Yukoners can schedule rapid access counselling at 1-867-456-3838. The National Indian Residential School Crisis Line can be reached at 1-866-925-4419.
Fifteen "anomalies" that could be potential graves have been identified near the former Chooutla Indian Residential School in Carcross following two weeks of ground-penetrating radar (GPR) work earlier this summer. Additionally, historical researchers have identified 33 deaths at the long-defunct school, more than 50 per cent more deaths than previously accounted for.
The announcement came at a press conference on Sept. 26 at the Best Western Gold Rush Inn in Whitehorse. The briefing was attended by representatives from the Yukon Residential Schools Missing Children Project, Carcross/Tagish First Nation citizens and representatives from the geophysics and historical research teams behind the investigation.
"As you can appreciate, this message is difficult to hear, and it will be difficult to hear for survivors across the territory. We just want to assure people that we have done our best to provide what supports we can. Right across the territory, we've been in touch with every community. We've been in touch with communities across the border into northern B.C. as well," Doris Bill, vice chair of Yukon Residential School Missing Children Project, said.
GPR work began at the former school site in Carcross in early June. British Columbia-based company GeoScan was hired to conduct the search, while Know History undertook the historical research portion of the investigation.
GeoScan's Brian Whiting, who served as the project manager, told those gathered at the media briefing that over 37,000 square metres of ground was scanned in 48 GPR grids and 37 magnetometer grids. The data was then analyzed by experienced interpreters and quality checked by Whiting, according to a press release.
Whiting said three potential burials were identified within the "immediate school building vicinity," while 12 others were identified "a considerable distance" away from the school.
"The 12 were all located on relatively flat, level ground and not located on bedrock. Again, suitable ground for a burial, especially being out of sight of the school, perhaps a secret burial," Whiting said. "Everything that we saw was consistent with what survivors and the community have been telling us."
He stressed that the 15 anomalies identified by his team are not necessarily graves but constitute a "medium probability of a grave."
"We do not have 100 per cent certainty ever […] We think there's enough evidence to suggest that that should be considered as respected and considered as a potential grave," Whiting said.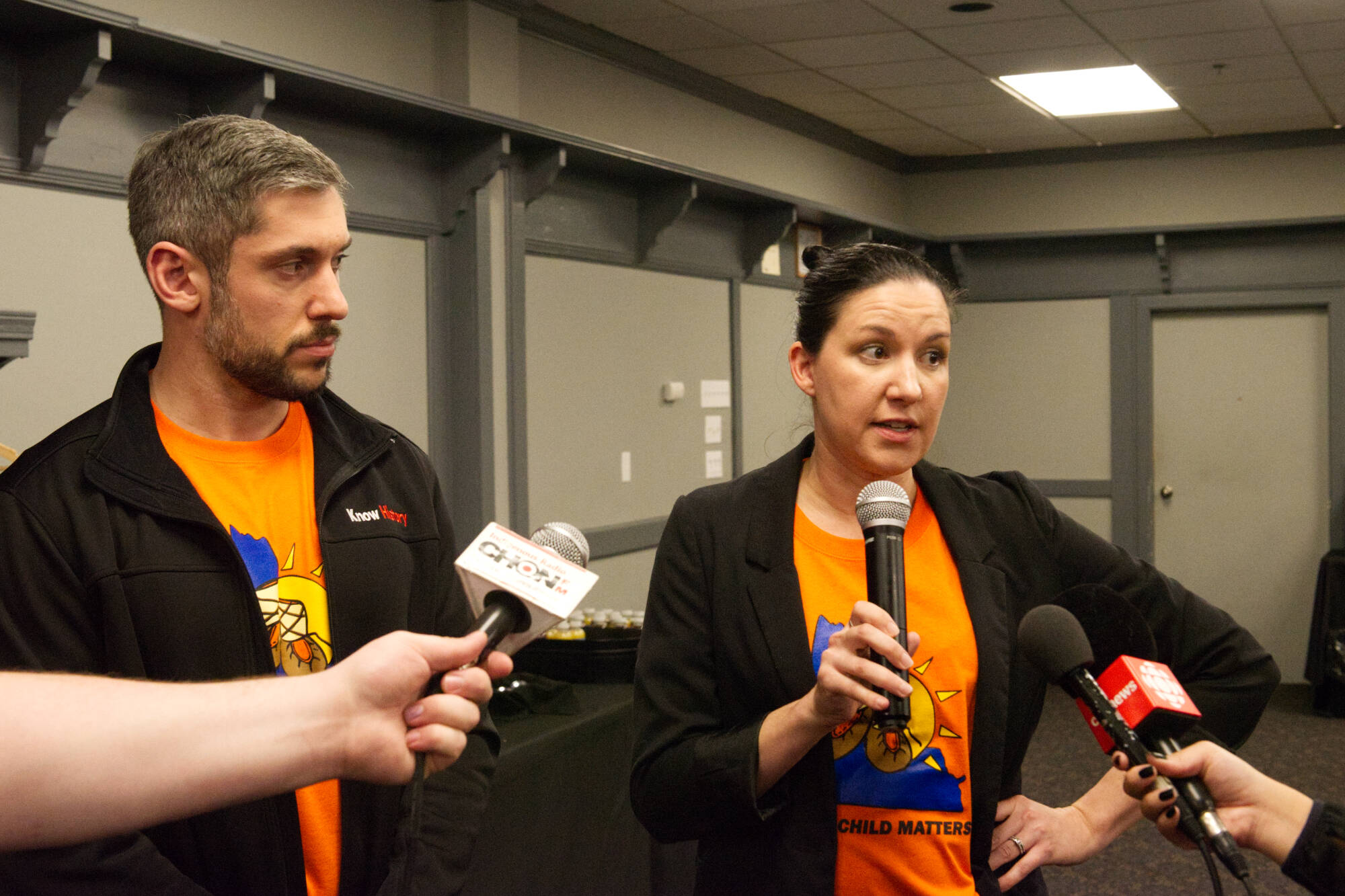 Chooutla Indian Residential School operated in Carcross from 1903 to 1969, and more than 1,300 children were taken to the site during its operation, according to Nicole Marion of Know History. During the media briefing, she said that, due to a lack of access to documents containing personal information, researchers could only learn the names of 900 of these youth.
"At this time, we only know the home locations or communities for 730 of the children. We do know that children were taken from across the Yukon, from Alaska and from British Columbia. They were taken from as far north as Herschel Island and Old Crow and as far south as Alexis Creek, British Columbia," Marion said.
The work began at the former residential school because of the Yukon Residential Schools Missing Children Project, which was created after 215 unmarked graves were discovered at the former residential school in Kamloops, B.C., in 2021. First Nations citizens from several Yukon communities have assisted in research and consultations around former schools in Carcross, Dawson City, Whitehorse and beyond.
Sandra Johnson, an elder from the Carcross/Tagish First Nation, told those gathered that the GPR findings have "unearthed long-buried wounds" and that the news has brought "immense sorrow and grief" to the community. She additionally called for sacred fires to be lit across the Yukon.
"We call upon the sacred fires to be lit across the Yukon in honour of the missing children, and to guide us on the path of healing and reconciliation. Let these fires represent our collective commitment to listen, learn and stand in solidarity with you. May the warmth and light they generate symbolize the love and support that surround you from all directions," Johnson said, drawing tears from some of those in attendance.
Asked whether Whiting's team would be back to undertake further GPR surveys in Carcross and other communities across the territory, Chair of the Yukon Residential Schools Missing Children Project Judy Gingell said the project's mandate is to find unmarked graves across the Yukon. She encouraged those with knowledge of potential burials to come forward.
"If they know — they have heard something, please contact us, tell us, because that's going to help us decide where we have to search […] As soon as we hear stories, it will be checked out, and that will help," Gingell said.
If you are struggling, there are options for support:
Call the 24-hour Residential School Crisis Line at 1-866-925-4419.
Contact the Committee For Abuse in Residential Schools (CAIRS) outreach and counselling for residential school survivors at 867-667-2247.
First Nations governments may also offer support and services.
Contact Matthew Bossons at matthew.bossons@yukon-news.com