The Creative Initiative Warehouse (TCIW) in downtown Whitehorse is a new space for artists.
The approximately 700-square-foot location on Front Street is run by partners Victoria Parker and Colin Muir Dorward.
Parker describes TCIW as a "blank canvas" that creators can use for a variety of projects and events — whether they be to create or showcase. She and Dorward feel there is a need for smaller, more accessible venues for art in the territory's capital city.
"Having this space is like a special pocket that's not a downtown bar and it's not a major arts centre. It's a very achievable goal for an artist to host their own show here," said Parker.
The venue is also meant to be an inclusive space where artists don't have to fit a certain mould or have enough clout to book an event.
"The last thing we want to do is create a gatekeeping scenario where we choose who is in and who is out," said Dorward.
When the partners signed the lease, the former warehouse on Front Street had seen better days. With the help of friends and a donation from Duncan Sinclair, Dorward and Parker cleaned up and decorated the space.
"Our friends have been in here right from the beginning when it was just this shell of a place and ladders were up and paint buckets were still out," said Parker.
Sound was top of mind during the design process. Acoustic panels made by Dorward adorn the old overhead garage-style door. Both musicians, Doward and Parker aimed to create a room that can serve as a quality music venue.
Aside from a place for bands to play, Dorward and Parker envision the warehouse as an art gallery, a yoga studio, a class room, a dance floor and more. Officially opened in December 2022, it launched with a speakeasy party — a themed soirée inspired by bootleg era bars, something the two used to do at their home outside of the city core. Now with their downtown business, Dorward and Parker feel more inspired by the local arts scene.
"You see shows on the waterfront or you see shows in other places. Different things are happening and we want to be a part of that. Being in the heart and the pulse of what's happening, you can do things here," said Parker.
Amberley Cooke, owner of Kin Work Pottery, uses TCIW to teach ceramics. She also rents a smaller room in the space that she uses as her studio, where she makes pieces to sell.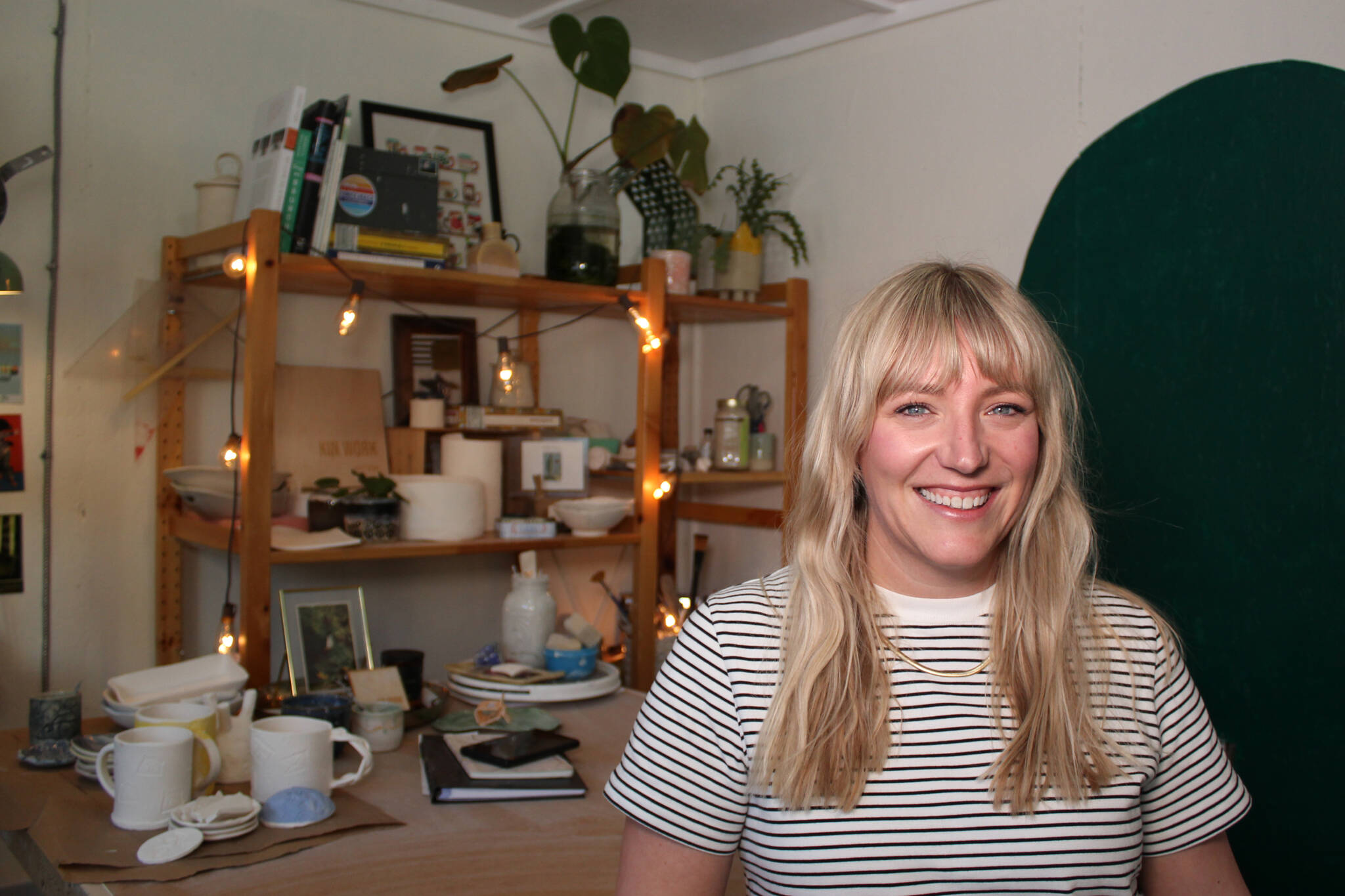 "I think [TCIW] creates more spaces that are available to rent. I think there's a big need for that," said Cooke. "It's very convenient to teach here. It's all in one. I can just wheel stuff out. And, it's my own space, and that's the ultimate dream."
A self-described pottery nerd of about eight years now, Cooke feels there aren't enough spaces in the Yukon for artists looking to get serious about their craft.
"It does take a bit of a community," said Cooke. "Once you get to a hobbyist level where you're more of an independent artist, there isn't anywhere for you to go."
Dorward and Parker are excited to see what other artists use TCIW for. They are surprised by the number of private parties the space is being booked for. They encourage artists to make their visions reality and hope that TCIW can help.
"People light up when they see this space. They're always like, 'You should do this!' Actually you should do that," said Dorward.
Dorward and Parker will continue to use the location for their own artistic endeavors and they may host another speakeasy night soon.
Artists interested in the space can get in touch through instagram @tciwyukon.
Dylan MacNeil is a freelance writer based in Whitehorse.